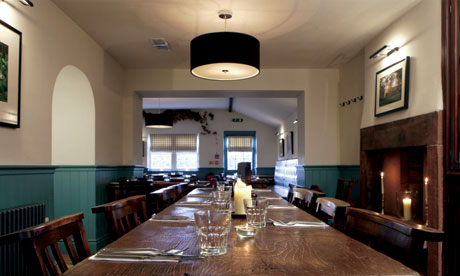 George and Dragon, Clifton, Cumbria: A top-notch gastropub that hasn't forgotten its roots as a place for locals to meet and drink. Photograph: Gabriel Szabo/Guzelian
What is the largest parliamentary constituency in England? And therefore – it logically follows, since constituency sizes are tied to population – the least densely populated? Answer: Penrith and the Border. It's one of the most beautiful parts of the country, too, with access to both the Lakes and Pennines, and it has a truly significant multiple of sheep to people. If sheep ever develop a malign form of intelligence and set out to challenge humanity for dominance, Penrith will be the first place to go.

The George and Dragon is a pub in the small village of Clifton, which would count as a suburb if Penrith were a city instead of a small Cumbrian market town. The pub is pretty, with a Rebel Oak out back, left over from the time Bonnie Prince Charlie did a runner in 1745. The setting would be idyllically peaceful if it weren't for the roaring M6 in the near distance.
The place has a good back story. It features the produce of the 70,000-acre Lowther estate, much of which is tenanted by the small farmers who haven't been having it easy in recent years. In 2001, after the foot and mouth crisis, Charles Lowther, eighth child of the Earl of Lonsdale, came back from London where he'd been on the verge of taking a job in banking (boo!) to help run the estate. He took the family farm organic from 2002, then, in 2008, took things to the next level by buying, renovating and relaunching the George and Dragon as a pub/ restaurant/inn specialising in the produce of the estate: game, fish, meat and veg, plus the produce of the pub's kitchen garden. To cook this bounty he hired Paul McKinnon from the highly rated 21 Queen Street in Newcastle. Money has been spent on every aspect of the operation, and the fixtures and fittings are simple but luxurious – no bling, just classy.
The cooking is what's called "modern British", which means next to nothing. It takes these superb ingredients and does slightly more with them than I would if it were my place; the cooking is a fraction more elaborate than it might be. Nothing wrong with that if you're in the mood; I may also have ordered atypical dishes, since there was only one of me. I started with a twice-baked cheese soufflé. I've made this at home; it's a good cheat's dish – you get points for making soufflé without the risk of it collapsing, since the whole point is that it collapses and is then cooked again. This was a lavishly generous version, liberally flavoured with herbs, which came with a lot – a hell of a lot – of deliciously cheesy white sauce. Also, this excellent starter was the first restaurant dish I've been served in years that arrived at the table too hot to eat.
New season partridge came dismembered into four pieces, with a slightly too sweet sauce and a bed of shredded cabbage, carrots and pancetta, and a celeriac purée. A few tables away, a posh woman was mercilessly bullying her dinner date. Her comment, delivered at table-rattling volume: "It's not the best partridge in the world, but it's very nice and the purée is good." Yes.
Pudding was a lovely apple parfait with chunks of caramelised apple and a gorgeous layer of honeycomb. I didn't mean to finish it, then found that I already had.
My notes then read: "Mad huge sweet Mexican yum but OTT?" I know what you're thinking: Salma Hayek burst in and made me an offer I couldn't refuse. But that's not what happened. Instead, I drank (most of) a £25 Mexican wine called Estapor Venir 2007 – that "mad huge" was the tasting note. Without it, the bill would have been £33 for food, which is good value for this level of cooking.
I was curious whether this admirable operation, in becoming such a good inn/restaurant, had become less of a pub, less of a place for locals. The Guardian trains its contributors in a range of investigative techniques, including the following: asking the cab driver. As it happened, he was a long-standing regular. "It's my local and it's great," he said. "They look after us very well." If you're in the hospitality business, there's nothing you'd rather hear a customer say.